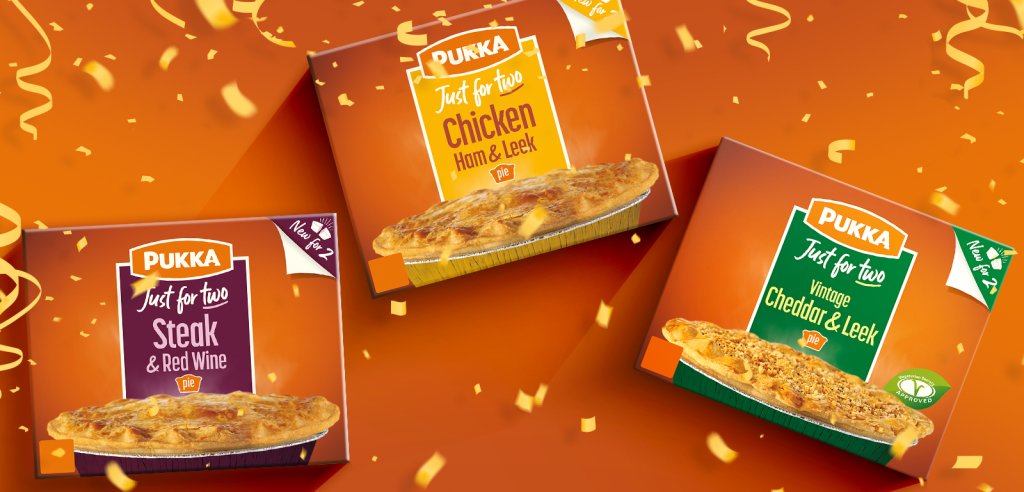 When it comes our tasty pies, there's a Pukka for everyone. All Steak for traditionalists. The award-winning Veggie Cheese, Leek & Potato for veggies. Not to mention our 100% plant-based vegan pies.
But we're The People's Pie, which means leaving no stone unturned. Say hello to the Pukka Just For Two range – the newest members of our Pukka family which are made and baked for two people to share.
The first newbie on the block is Just For Two Steak & Red Wine. Chunky cuts of slow-cooked beef are paired with a rich red wine sauce to make an irresistible pie that'll take your meal for two to the next level.
Next up is Just For Two Chicken, Ham & Leek. Tender chicken breast matched with ham and sliced leeks, in a deliciously creamy sauce, are all cosied up together in 144 layers of our signature light puff pastry.
Finally, enter Just For Two Vintage Cheddar & Leek for the veggie lovers. Approved by The Vegetarian Society, this classic recipe is filled with a vintage cheddar sauce, chopped leeks and topped with a tempting poppyseed and bread crumb topping.
Whether you choose to share yours with a friend, family member or date, our Just For Two pies have been specially made and baked for two people to enjoy together.
How will you split yours? A nice and precise 50:50, or a bigger slice 75:25? We won't judge either way!
The range will be rolling out into supermarkets nationwide throughout the remainder of the year.