Light, crispy pastry, hearty fillings, and that signature, brightly coloured foil – there's nothing quite like a Pukka Pie. Whether you're carrying it home in a paper parcel with lovely, vinegary chips, tucking in at the side of the pitch, or serving it up with creamy mashed potato, it's the ultimate comfort food – whatever little ups and downs your day brings.
Perfecting

our light, golden pastry

Our pastry is our finest and most beautifully golden yet. The bakers in our Leicestershire kitchens fold 144 layers into our carefully perfected puff pastry to get it extra light and crispy.

Refining

our classic, crunchy crimp

That wavy bit around the edge isn't just there to look pretty. We've made our crimped crust thicker and crunchier, meaning it gives that beautifully homemade look, holds in all the good stuff, and tastes great.

Choosing

tasty, tender beef steak

The better quality the steak, the better the flavour, and we choose our meat really carefully. In our steak pies (that's Steak & Ale, Steak & Kidney and our number one bestseller, All Steak) we use only high quality beef steak.

Preparing

our deliciously oozy gravy

Everyone knows that, at the end of the day, it's our gravies that add the distinctive Pukka taste to our pies. That's why we make them rich, thick, and full of flavour.

Wondering where to buy Pukka? Our crowd-pleasing pies are stocked in more than 4,000 grocery shops nationwide, including Tesco, Asda, Morrisons, Sainsbury's and Co-op, as well as a range of smaller convenience stores.
And they're as simple to serve as they are to find – just pop your pie onto a baking tray, stick it in the oven, and then make the most of the 25 to 30 minutes it takes to cook.
So, whether you're grabbing a few flavours to keep everyone happy or serving up one of our family favourites, set that oven going and make your mealtimes easier.
The People's Pie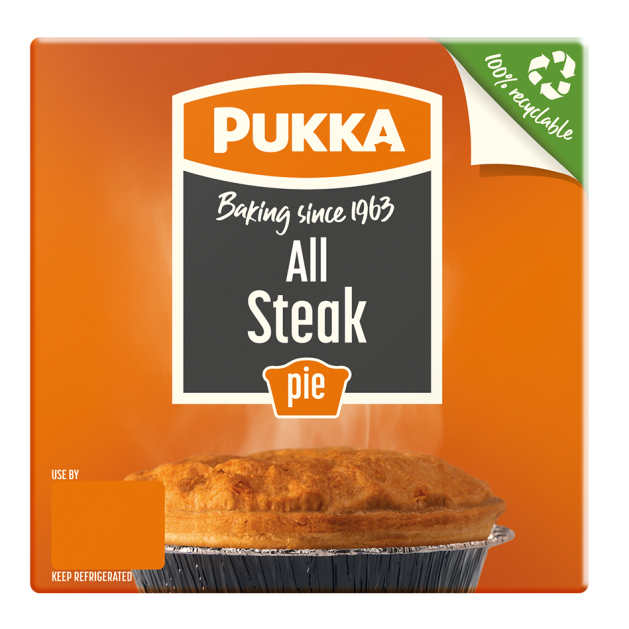 All Steak