Everything would be Pukka with a mash up of Gerrard, Ronaldo and Beckham on the team!
The "Ultimate" footballer has the right foot of Steven Gerrard, the left foot of Lionel Messi, the dazzling skills of Cristiano Ronaldo and the dashing looks of David Beckham, according to the nation's football fans.*
We polled 1,000 self-confessed fanatics of the "beautiful game" to discover the perfect player, with Barcelona's goal machine Messi being voted to have the best left foot in the world, while Liverpool legend Steven Gerrard provides the powerhouse right.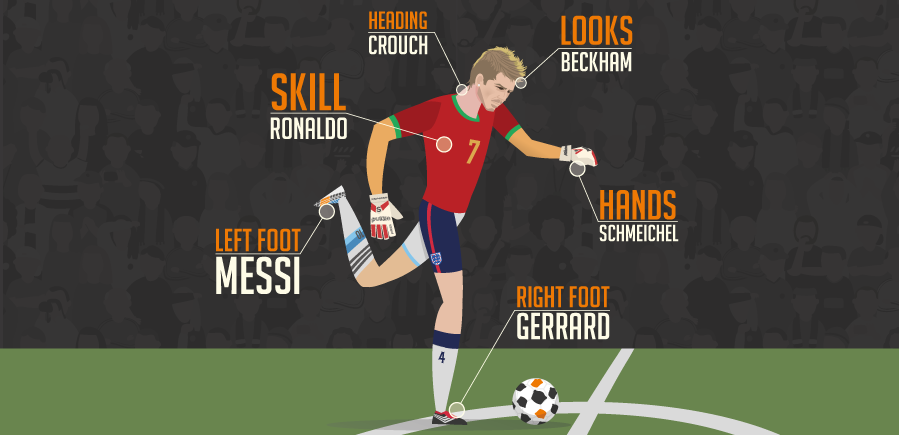 According to the data the ultimate player would also have the heading abilities of former Liverpool hit man Peter Crouch.
Football is at the heart of British culture and during a major summer football event, many will be waiting with baited breath for the results. We wanted football fans to imagine the perfect player, who would be able to drive our country's victory and create their 'Everything's Pukka' moment!
The survey also uncovered England fans' dream eleven, with Ex-Arsenal shot stopper David Seaman in goal, 1966 World Cup winner Bobby Moore partnering with former Man U star Rio Ferdinand at centre back and Alan Shearer and Gary Lineker up front.
The team also features David Beckham and Paul Gascoigne out on the wings and playmakers Steven Gerrard and Bobby Charlton in midfield.
However, when it comes to our current squad's chances of lifting the trophy in Russia, just 30 per cent of those polled thought we could win it.
When asked to describe the feeling of England emerging victorious, over one in ten said it would be better than sex, the majority (a third) said it would feel better than when Andy Murray won Wimbledon and a cheeky 7 per cent even said it'd make them happier than on their wedding day.
THE DREAM ENGLAND SQUAD
David Seaman – Goal Keeper
Gary Neville – Right Back
Bobby Moore – Centre Back
Rio Ferdinand – Centre Back
Ashley Cole – Left Back
David Beckham – Right Wing
Steven Gerrard – Centre Midfield
Bobby Charlton – Centre Midfield
Paul Gascoigne – Left Wing
Alan Shearer – Striker
Gary Lineker – Striker