This year we've turned the ripe old age of 55. But our birthday isn't (just) about us – it's about you lot, too.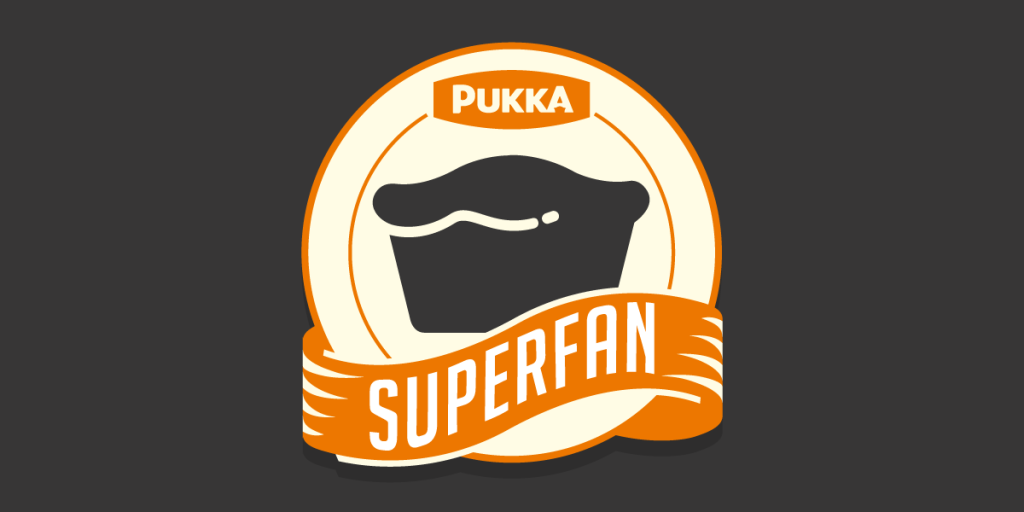 Fact is, we wouldn't be where we are today without our fans. So, to celebrate our 55th birthday we want to find our ultimate superfan. Is your house a shrine to all things Pukka? Do you only ever wear bright Pukka orange? Got pies tattooed on your chest? That's what we call commitment – and we want to hear about it.
If you wear your Pukka dedication loud and proud and are stuffed to the crust with personality, prove it by commenting on our Facebook or Twitter with a picture or short video. After sorting through the entries, we'll treat four finalists to goody bags filled to the brim with must-have Pukka merchandise. Then, it'll be up to the Great British public to decide who deserves to be crowned the UK's ultimate Pukka Pie fan.
Our glorious winner will be rewarded with a year's supply* of Pukka Pies and a true pie superfan experience: an exclusive tour of the renowned Pukka bakery, a tasting of the newest products in the Pukka range and a pie-making masterclass where they can cook up their dream recipe.
Head over to our Facebook or Twitter to enter and find out more. Good luck – and may the biggest fan win!
*Please note that 1 year's supply equates to 52 pie vouchers; the equivalent of 1 pie per week.
For full competition Terms and Conditions click here.